Today with the interrelation of our interpersonal communications, the senses that the world experiences are more and more atrophied. However Cesare Pergola, an interdisciplinary artist from Florence, tries to recapture them.

A reason to make pure art or applied art that influences human thought is because it usually plays with our fundamental five senses. But given the speed of the world nowadays, our senses are overtaken by capitalism, authoritarianism and materialism that makes our personal world a shallow place to be in. But not for the 80's Renaissance man Cesare Pergola, who is currently teaching interior design at Chanapatana Institute on behalf of Accademia Italiana Arte Moda & Design exchange program. He graduated from the Architecture School, University of Florence, as an expert in sensorial architecture that has emerged from interdisciplinary inventions.
"I think the more I grow, the more I think myself as quite an eclectic figure in the world of art and architecture. Because all my life I worked not just as a technician, now it is important for me to recognize this. I produced many materials. I have already published 6 books, I painted 300 paintings, and I made 20 exhibitions. If I consider only one line of my career, none of these lines has gone towards a big production or big success. But, if I see all these things together and I make myself coordinate all these experiences, I feel more comfortable with my life. I think one reason is from my growth, my studies. I was really involved in interdisciplinary arts. Everything comes like from the 70s in theatre, art, moviesÖ everything was so experimental in the 60s and 70s. I grew up in the beginning of 80s; it was a very experimental time. So, I think mixing the things together is interesting and that is why we started to do theatre. Because in theatre you have many disciplines, you have dance, acting, writing, lighting, music, scenery, even architecture and design. After that at the end of the 80s and in the 90s the entire world changed so much. In some ways things went back to a more traditional way; the multidisciplinary field was separated from each other again."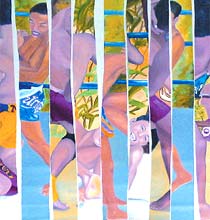 Two years ago, in LA, his last exhibition "The City of Rivolta" at Orbetello Gallery consisted of various kinds of media. He stunned the visitors via the gigantic sized inkjet prints with a pile of dry leaves in front and well selected music. While we were focusing on a picture of a bizarre structure that is composed of countless extinguisher tanks, the brittle sound from the touch of leaves brought out something else in mind - a kind of a relationship between architecture and the missing pieces of fragile sensation.
"In all this confusion one line that can blend all the things together is sensuality. Everything can be analyzed in term of communication by the five senses, the channels of hearing, sight, touch, smell and taste. So this is interesting in analyzing things, not in terms of disciplines but if you analyze in term of channels, everything does not have to be in a boundary as in discipline. For example painting, it has no hearing, it has no channel to communicate, but there are many other disciplines that have multi channels to communicate the subject they want to communicate. Once you think of all the complexities in a multi-disciplinary way, one point is the experimental way, another point is that, I mean, I was living in Florence and it is the Renaissance city for excellence. The Renaissance figure is kind of a multidisciplinary man. You think about a big man of the Renaissance in many cases, we still have this in the university. That's why we like being architects, an architect means being able to create everything - from spoon to the town."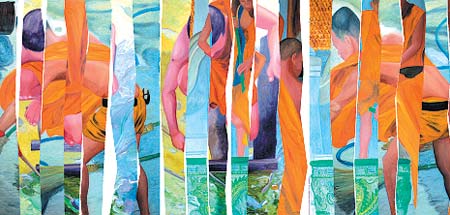 In a way, Pergola often speaks about the context of his living space, in terms of culture, society, and people, being in cooperation with art and architecture. Seen from a distance, itís a kind of the foreigner's view and attitude to the loci, well, this time it is Bangkok, one of the complex cities of the world.
"Florence and Bangkok are too different. It's just an amazing situation that has happened to me because I didnít choose to come here. It has totally changed my life. Now, I can't go back to Florence. I cannot be the same as I was before. Maybe at the end of this interview I will tell you what I want to do after this. In terms of experience, Bangkok is very shocking if you analyze it in terms of sensuality. Bangkok is not just any townóit is a big explosion of colors. In terms of smell and sound, if you live in Bangkok until you are old, maybe you cannot hear or smell any more. You may not feel this impact but it's absolutely surprising for me - this town full of traffic and smoke and confusion. Still today, in 2005, you can hear the rooster singing almost every night. You never hear the rooster singing every night in New York. So, the opposition is very strong for me. The most different for me is the smell in Bangkok - it's very rich, sometime it's aggressive, very surprising - sometimes itís disgusting. I put a little bit of attention to this. The world of scent is usually almost labeled".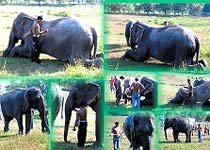 Pergola's art is all about the sensitivity of man and his skills in architecture are reflected in the process of arranging space, forms, and other elements. With this integration, the change of architecture can be found in different dimensions, not only in the walls, doors or floor plan, but it is different in the way of moods that the visitors can feel. He gave us some interesting examples.
"One example that I always give to make people understand is of London in the 80s where there was this line of disco clubs which were inside church spaces. Churches were changed into disco clubs. They changed absolutely nothing of the original architecture. So, the architecture is the same but the music is not the sound of the organ but the music of techno or something like that. So what changed are the light, the music, and the smell. You donít smell incense or the usual things that one smells in a church. You smell perfume, cigarettes etc. Practically the same architecture but totally different, nobody thinks about a church when they go there. What I mean is, you can change the world around you by just changing the sensation coming towards you. If I have to choose a house in some area that has a very strong smell, even if it has beautiful architecture I won't buy it. I won't feel good everyday to smell something like that. There are some sensations that nobody thinks about it. But they disturb you; they canít make you happy. We think that they are not important but they are quite important. Sometimes, you meet a beautiful girl but she is smelly, it's something like that. Even the space, itís the same."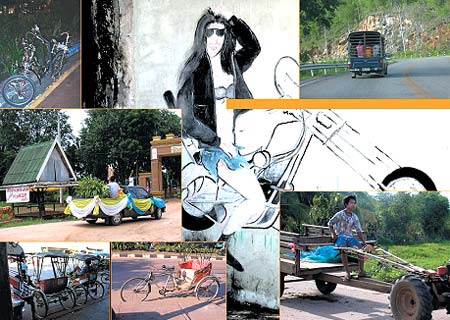 Besides art and architecture, Pergola is also interested in urban issues. And for the metropolitan city of Bangkok, a big city where there is overlapping between various layers such as physical structures, societies, economies, and lifestyles, Pergola also gives us some critical opinions about its characteristics and fashion.
"For me, Bangkok is the fashion city with all the shopping centers that you love, at the same time there are the monks in the temples who clean the statues of Buddha; for me they are the same. So, I think this is the pressure now - that you have to build Bangkok as a contemporary town and city of fashion. In all these things, in some way, maybe we loose so many things instead. You think you will be fashionable like New York. I don't think so. Maybe you will loose your characteristics. To tell you the truth, Bangkok should be a fashion city with kitsch. We cannot play with like high-class style; this is not your style. But the kitsch, you're very strong in this crazy thing. I think you have to think about it. From what I know about the Thais, this is your strength in some ways. Maybe people don't like it or something but that's the biggest thing you have here - contradictions, conflict, kitsch. In terms of taste these contradictions are cool. Your taste is quite particular in some kind of tradition.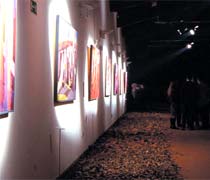 The problem is you cannot manage the quality of the taste. But if you start to manage things in terms of exaggeration, for example in Italy, one is Giorgio Armani and the other is Versace. They were on the opposite sides in terms of fashion. Armani is so fine - plain, black and nothing. But Versace is super color. It never can be Versace if they play with gray because Armani is good with dark colors. Versace has to be colorful.
I mean, I really don't know fashion very well, but this is in terms of everything. Take the design company here like Propaganda and what they do with a little man. You have to push his dick to make the light glow. This is very interesting in terms of Kitsch. I never can think of Italy, ok, we have something like that but it is small in sophistication. But this one (by Propaganda) is very simple - you just have to touch. It's very funny and it looks so natural. But if you do the same in Italy, you must be a pervert, or something like too much thinking to arrive at that point. Sometimes the kitsch is more connected with simplicity, naivety, complicated lines but naive."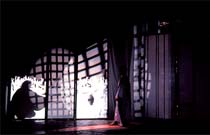 Cesare Pergola is arranging Thai Colors, his exhibition at Bangkok CODE from 19 to 25 April. Thai Colors is a multimedia installation which will travel to other countries later. Itís all about his experiences in Thailand in terms of the landscape, people, traditions, and ancient culture. This is the result of three years of researching and traveling in the country.
"In the exhibition mainly we have two kinds of media. One is this installation and one is the book. For the book, I divide it into five chapters and each chapter represents one sense. Like the chapter on touch, I put in pictures that represent the sensation of touch. For example, a baby in water, it can look just like a cute baby in water or you can look at that picture as the experience of touch of the skin with water. For the installation, I try to really involve many senses. I never do something that is just visual; there is the visual as well as music. So weíre already involving double senses. There is also a factory truck that introduces some smell into the room. I try to include multisensorial signs. Thereís a video projection that is not projected on a screen. It is particularly three-dimensional and you can go inside. In Thai Colors, he transfers all this in terms of views. In various qualifications of materials you will see the tiny objects such as books and cards, even a big oil painting.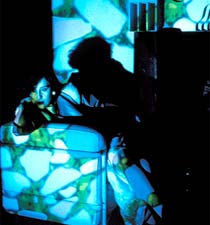 Talking about these he says, "If this exhibition is shown in other towns like Florence or in Milan, I'm sure it will be much more interesting than here in Thailand. Because here, most of these things you take for granted, it is your daily life. It's quite normal for Thai people. In any case, I'm a farang from Florence who has been living here for 3 years. This is the way I see Thailand. In some points of view it may be very banal but maybe something quite different for you. You might never really have looked at that thing, never paid attention to that detail. So, this is just a point of view of someone coming here not as a tourist. I don't go and take a picture from a touristy or picturesque point of view. I don't care about this.
I leave some experiences, for example a funeral and a wedding - this is not the thing that tourists do in Thailand. I went to the North Eastern part of your country and stayed in a village with the grandmother of my friend. She lives in a hut that seems to be 102 years old; I live with them, no bathroom.
For me, itís quite interesting and means something. []