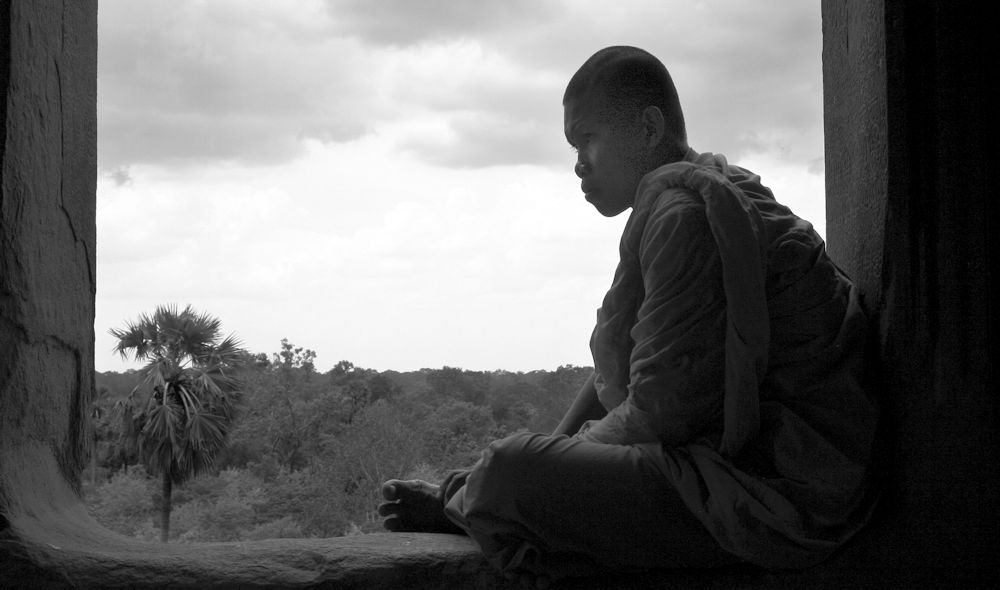 Monaci al Tempio
(fotografia, Bangkok, Wat Dhammamongol - 2004)
Uma dança laboriosa Jovens noviços budistas como limpadores do templo. A atividade física cotidiana é investida de uma sacralidade devida ao local, aos objetos, à vestimenta dos monges. Mas é uma sacralidade leve, alegre, uma dança laboriosa. É como estar nos bastidores de um teatro exótico e misterioso, revelando os truques e os altares (como dizem).
Una danza operosa Giovani novizi buddisti addetti alle pulizie del tempio. L'attività fisica quotidiana si riveste di una sacralità dovuta al luogo, agli oggetti, al vestito dei monaci. Ma si tratta di una sacralità lieve, allegra, una danza operosa. È come stare dietro le quinte di un teatro esotico e misterioso, scoprendo i trucchi e gli altarini (come si suol dire).
An industrious dance Young Buddhist novices as the temple cleaning staff. The daily physical activity is endowed with sacredness owing to the place, to the objects, to the attire of the monks. But it is a mild, cheerful sacredness, an industrious dance. It's like being in the backstage of an exotic and mysterious theater, revealing the tricks and the altars (as they say).