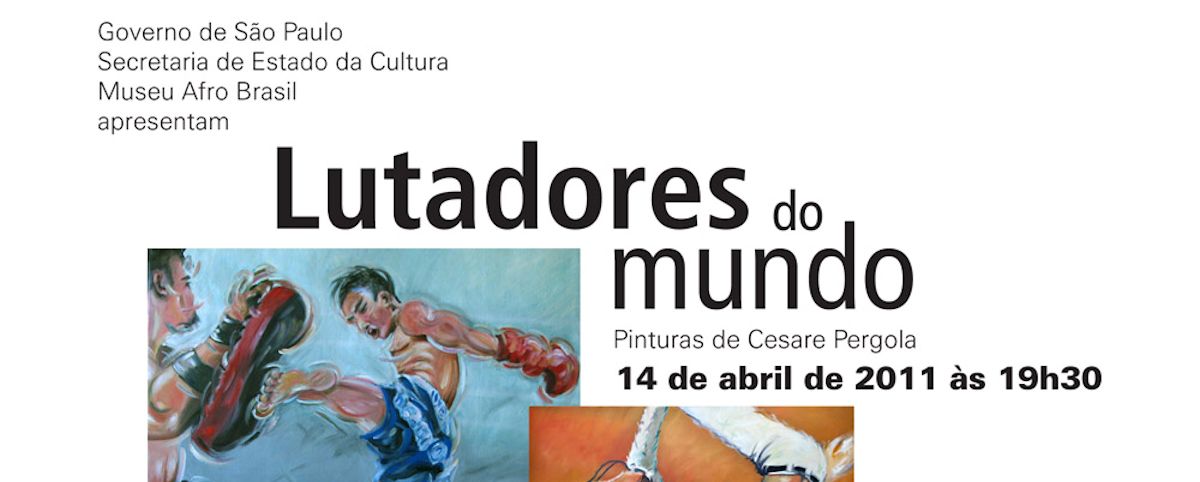 lutadores do mundo
Pinturas, vídeo, objeto luminoso
curadoria Emanoel Araujo

14 abr - 18 mai 2011, Museu Afro Brasil, São Paulo (SP)
A vivência do artista por muitos países lhe facilitou o approach estético com os movimentos e as ações de muitas dessas lutas, que no passado eram de fato para marcar espaços e domínios longe de serem apenas jogos ou simples brincadeiras dos movimentos do corpo, como na capoeira de Angola transformada num mero jogo de acrobacias, bem distante da praticada pelo lendário capoeirista Besouro, de Santo Amaro da Purificação, na Bahia. Contudo, aqui temos um artista, um pintor, e aí reside a questão maior de sua presença no espaço do Museu Afro Brasil. Ora, sabemos que o tema escolhido por um artista representa a sua forma de exaurir paixões, sentimentos recônditos ou até mesmo um compromisso político com o próprio homem. A larga pintura de Cesare Pergola tem um profundo desejo de aproximação, de conhecimento das ações que levam ao domínio da superação entre iguais, pela força, pela agilidade, pelo domínio do gesto. Entre vencido e vencedor. Mas aqui há um pintor à procura da cor, do espaço, da modelagem, da composição, do desenho, da textura, da forma e do fundo bidimensional de corpos que se atraem e se afastam no tremido do seu pincel nervoso, ágil, cheio de fagulhas de cores.
(Emanoel Araujo, curador da mostra)
Italiano
L'esperienza dell'artista per molti paesi ha facilitato il suo approccio estetico ai movimenti e le azioni di molte di queste lotte, che in passato erano di fatto per marcare spazi e domini lungi dall'essere solo un gioco o semplice movimento del corpo, come nella Capoeira dell'Angola trasformato in un mero gioco di acrobazie, molto lontano da quello praticato dal leggendario capoeirista Besouro, di Santo Amaro da Purificação, in Bahia. Tuttavia, qui abbiamo un artista, un pittore, e qui si trova la maggior ragione della sua presenza all'interno del Museo Afro-Brasil. Ora sappiamo che il tema scelto da un artista è il suo modo di esaurire le passioni, i sentimenti nascosti o anche un impegno politico per l'uomo stesso. L'ampia pittura di Cesare Pergola ha un profondo desiderio di avvicinarsi, di conoscere le azioni che conducono al raggiungimento della vittoria tra eguali, con la forza, l'agilità, il controllo del gesto. Tra vinto e vincitore. Ma qui c'è un pittore in cerca di colore, di spazio, di modellazione, di composizione, del disegno, della testura, della forma e dello sfondo bidimensionale, dei corpi che si attraggono e si allontanano nella scossa del pennello nervoso, agile, pieno di scintille di colore.
(Emanoel Araujo, curatore della mostra)
English
The experience of the artist in many countries facilitated his aesthetic approach to the movements and actions of many of these fights, which in the past were in fact to mark spaces and areas, far from being just play games or simple body movement, like the capoeira in Angola, which was turned into a mere game of acrobatics, extremely far from the capoeira practiced by the legendary capoeirista Besouro, from Santo Amaro da Purificação, in Bahia. However, what we have here is an artist, a painter, and there lies the biggest question of his presence at the Museu Afro Brazil. Well, we all know that the theme chosen by an artist expresses his or her way to exhaust passions, hidden feelings, or even a political commitment to Man himself. Cesare Pergola's large painting has a sincere desire to get closer, to know the actions that lead to the achievement of victory among equals, through strength, agility, control of the gesture. Between loser and winner. But here's a painter in search of color, space, modeling, composition, drawing, texture, of the shape and bidimensional background of bodies that at one and the same time attract and move away from each other, in the quivering of the nervous, agile brush, full of sparkles of colors.
(Emanoel Araujo, exhibition curator)